Advisor Tax Mistake #6 – Your tax knowledge isn't getting you more clients
One of the best parts of working exclusively with financial advisors is that I get to meet a lot of really interesting and really smart people, especially when it comes to taxes. However even the most tax-smart advisors, ones who can run laps through the tax code, often struggle with how to communicate tax strategies to clients AND how to leverage their tax planning knowledge to differentiate themselves from every other advisor when meeting with prospects.
While my last article focused on getting tax returns from clients, in this article I'm going to focus more specifically on getting tax information from prospects and demonstrating to them how working with you will prevent them from overpaying the IRS.

Recommended Articles
The information on this site is for education only and should not be considered tax advice. Retirement Tax Services is not affiliated with Shilanski & Associates, Jarvis Financial Services or any other financial services firms.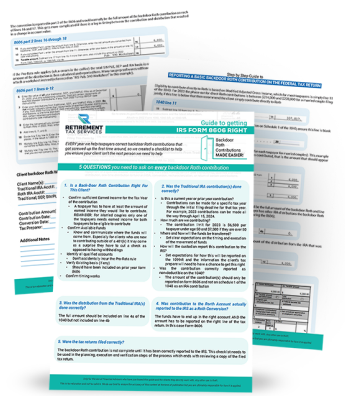 Guide to Getting
IRS Form 8606
RIGHT
EVERY year we help taxpayers
correct backdoor Roth
contributions that got screwed up
the first time around, so we
created a checklist to help you
ensure your client isn't the next
person we need to help
GET THE GUIDE

$86.06 $43 One-Time Payment