Advisors' Most Asked Questions on Working With Tax Professionals
Every financial decision has a tax impact. This simple truth is particularly meaningful for financial advisors because it means that every recommendation they make to clients has a tax impact. While some financial advisors have certificates or training that includes some level of tax knowledge, the vast majority are not certified public accountants or enrolled agents. They are not themselves tax professionals who can or want to, prepare tax returns. This leaves most financial advisors searching for ways to effectively collaborate with tax professionals in service of their own clients.

Recommended Articles
The information on this site is for education only and should not be considered tax advice. Retirement Tax Services is not affiliated with Shilanski & Associates, Jarvis Financial Services or any other financial services firms.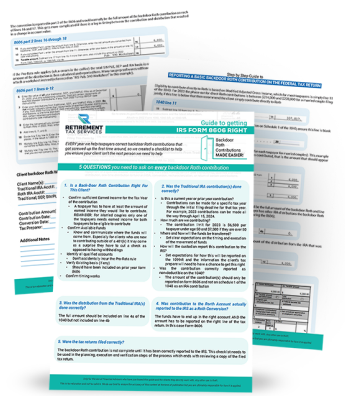 Guide to Getting
IRS Form 8606
RIGHT
EVERY year we help taxpayers
correct backdoor Roth
contributions that got screwed up
the first time around, so we
created a checklist to help you
ensure your client isn't the next
person we need to help
GET THE GUIDE

$86.06 $43 One-Time Payment