Tax Return Review – "Your Client's Long-Term Tax Plan"
There's not always an opportunity to make a significant difference in current year taxes, but being proactive can assist you with long-term planning opportunities. Looking at the age of dependents for care and education credits, reviewing contributions to employer-sponsored plans, timing charitable giving, and contributing to IRAs/Roth accounts are just a few items that can make a difference in the amount your client pays in taxes over multiple years.
In this tax return review, Steven explains how to take the information from the tax return and use it to come up with a long-term tax strategy for your client.

Recommended Articles
The information on this site is for education only and should not be considered tax advice. Retirement Tax Services is not affiliated with Shilanski & Associates, Jarvis Financial Services or any other financial services firms.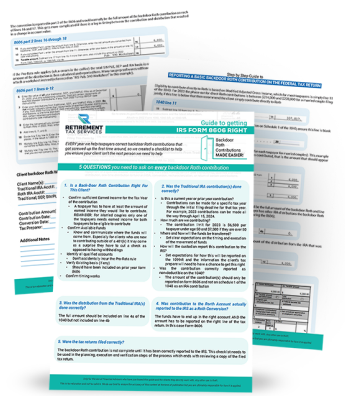 Guide to Getting
IRS Form 8606
RIGHT
EVERY year we help taxpayers
correct backdoor Roth
contributions that got screwed up
the first time around, so we
created a checklist to help you
ensure your client isn't the next
person we need to help
GET THE GUIDE

$86.06 $43 One-Time Payment