Advisors' Guide to Capital Gains Taxes and Tax-Loss Harvesting
A key difference between tax preparation and tax planning is choice. Everyone with income has to pay taxes, but proactive taxpayers who plan ahead can have a say in how much they pay in taxes. Passive income, like capital gains and losses, provides great examples of the potential impact of a tax plan. Great financial advisors can help their clients save on taxes through both tax loss harvesting and capital gains harvesting.

Recommended Articles
The information on this site is for education only and should not be considered tax advice. Retirement Tax Services is not affiliated with Shilanski & Associates, Jarvis Financial Services or any other financial services firms.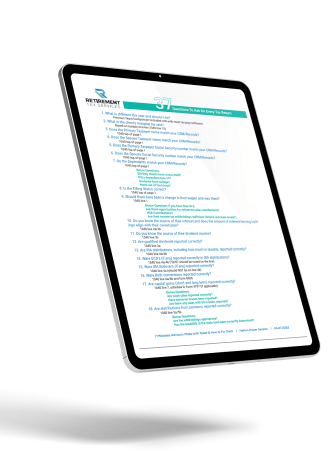 - DELIVER MASSIVE VALUE TO YOUR CLIENTS
THROUGH TAX PLANNING -
How The RTS...
37 POINT
CHECKLIST
...Can Help You Transform
The Tax Return Review Process
From a Wild Goose Chase
to a Value Add Experience
GET THE CHECKLIST

$37 One-Time Payment