The Tax Planning Process Every Advisor Can Implement
The best way to help clients pay the highest amount of income tax possible is to do nothing. Letting taxes "just happen" virtually guarantees that opportunities are getting missed. Even for taxpayers who work with a tax professional, the default approach to tax preparation does little to ensure tax planning, and with it tax savings, are actually happening.

Recommended Articles
The information on this site is for education only and should not be considered tax advice. Retirement Tax Services is not affiliated with Shilanski & Associates, Jarvis Financial Services or any other financial services firms.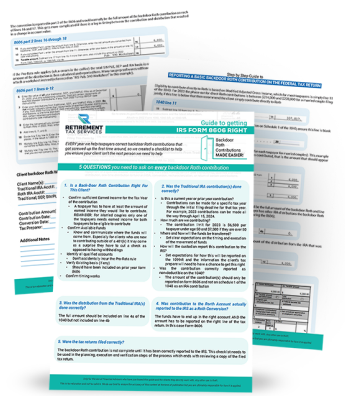 Guide to Getting
IRS Form 8606
RIGHT
EVERY year we help taxpayers
correct backdoor Roth
contributions that got screwed up
the first time around, so we
created a checklist to help you
ensure your client isn't the next
person we need to help
GET THE GUIDE

$86.06 $43 One-Time Payment