Advisor Tax Mistake #3 – Skipping the Three Most Important (But Least Sexy) Tax Strategies
Advisor Perspectives welcomes guest contributions. The views presented here do not necessarily represent those of Advisor Perspectives.
This article is the fifth in a series of the seven most common mistakes financial advisors make on tax planning with clients.
In my previous article, I discussed the mistake of doing tax planning one year at a time. This week I will discuss Evaluating Roth conversions for every client, every year, Leveraging charitable giving, Explaining taxes in buckets, and Action items for tax planning. 

Recommended Articles
The information on this site is for education only and should not be considered tax advice. Retirement Tax Services is not affiliated with Shilanski & Associates, Jarvis Financial Services or any other financial services firms.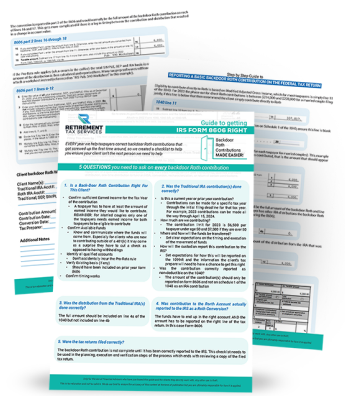 Guide to Getting
IRS Form 8606
RIGHT
EVERY year we help taxpayers
correct backdoor Roth
contributions that got screwed up
the first time around, so we
created a checklist to help you
ensure your client isn't the next
person we need to help
GET THE GUIDE

$86.06 $43 One-Time Payment