Why Not to Do a Roth Conversion in 2022
Roth has been a buzzword in the industry since its creation, and 2021 shined an even brighter light on it. Between Peter Thiel's $5 billion Roth account and political fighting over back-door Roth contributions in the proposed Build Back Better legislation, this topic is top-of-mind for consumers and advisors. But the focus has been on how to get as much money in a Roth as possible, but that is not a universally great idea.

Recommended Articles
The information on this site is for education only and should not be considered tax advice. Retirement Tax Services is not affiliated with Shilanski & Associates, Jarvis Financial Services or any other financial services firms.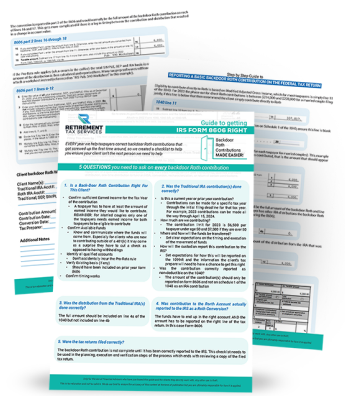 Guide to Getting
IRS Form 8606
RIGHT
EVERY year we help taxpayers
correct backdoor Roth
contributions that got screwed up
the first time around, so we
created a checklist to help you
ensure your client isn't the next
person we need to help
GET THE GUIDE

$86.06 $43 One-Time Payment