How to Use a Client's Tax Return to Map Financial Success
For most people, a tax return is the most consistent, if not the only, measure of their financial life. Investment statements can be glossed over, and credit scores can be ignored, but like clockwork, the IRS comes back every year asking all of us to take inventory. This can create a massive opportunity for financial advisors if they know where to look. Whether serving existing clients or courting prospects, the tax return gives an advisor a consistent tool to understand where a person is financially and what opportunities might be available to them.

Recommended Articles
The information on this site is for education only and should not be considered tax advice. Retirement Tax Services is not affiliated with Shilanski & Associates, Jarvis Financial Services or any other financial services firms.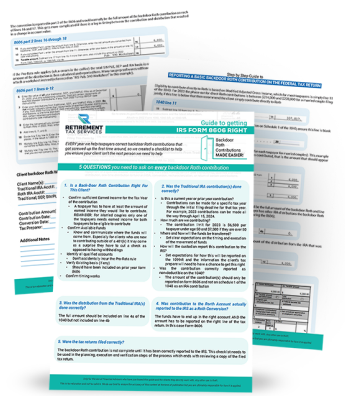 Guide to Getting
IRS Form 8606
RIGHT
EVERY year we help taxpayers
correct backdoor Roth
contributions that got screwed up
the first time around, so we
created a checklist to help you
ensure your client isn't the next
person we need to help
GET THE GUIDE

$86.06 $43 One-Time Payment