Known Unknowns: Tax Planning Amid Uncertain Law Changes
"How can I advise my clients on tax planning when there is so much uncertainty about future tax laws?"
This is a question financial advisors are asked on a daily basis. If this is a question you have asked yourself, consider asking this instead: When has the tax code ever had certainty? Asking the tax code to have certainty is like asking the stock market or interest rates to just sit still for a few years. Compared to the markets, the tax code is the most stable piece of a client's financial life, as it only tends to change once or twice per administration.

Recommended Articles
The information on this site is for education only and should not be considered tax advice. Retirement Tax Services is not affiliated with Shilanski & Associates, Jarvis Financial Services or any other financial services firms.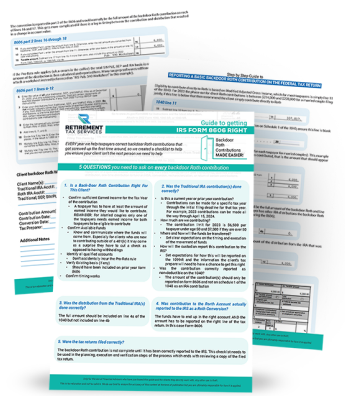 Guide to Getting
IRS Form 8606
RIGHT
EVERY year we help taxpayers
correct backdoor Roth
contributions that got screwed up
the first time around, so we
created a checklist to help you
ensure your client isn't the next
person we need to help
GET THE GUIDE

$86.06 $43 One-Time Payment